The finest choral and orchestral music in a welcoming environment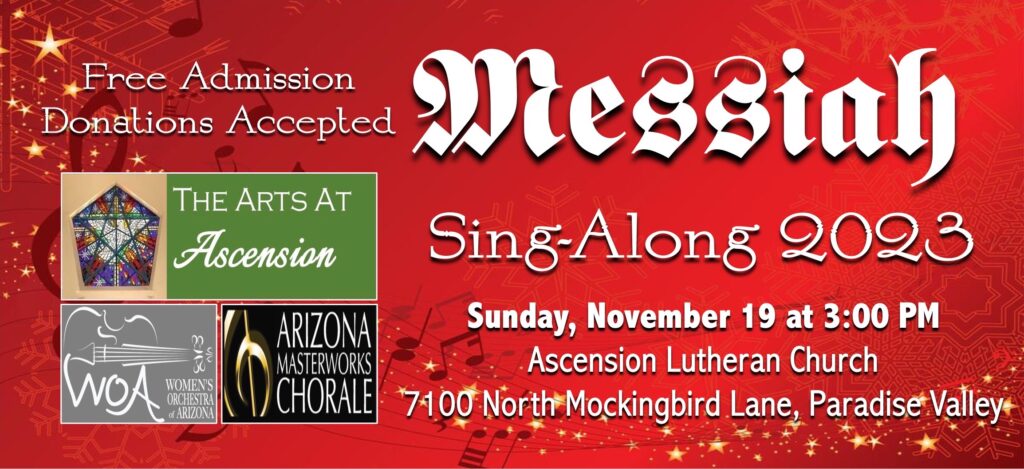 The Second Annual Arts at Ascension Community Event
Featuring members of the Women's Orchestra of Arizona and the Arizona Masterworks Chorale.
Admission is free for a splendid afternoon of musical fun for the whole family!
Want to sing along?  No rehearsal is necessary, just show up!

(Bring your own vocal score or download a PDF 
HERE
to print or load on your tablet)

Don't want to sing?  Just sit back and listen to the greatest Christmas music ever!

The Program
Sinfonia (Overture: Orchestra)
Ev'ry Valley (David Fetz, Tenor)
Chorus: And the glory of the Lord
Thus Saith the Lord / But who may abide (Sague Molina, Bass)
Chorus: And He shall purify
Behold, a virgin shall conceive (Mackenzie Nelson, Alto)
Chorus: O thou that tellest good tiding to Zion
The people that walked in darkness (Sague Molina, Bass)
Chorus: For unto us a child is born
Pifa (Pastoral: Orchestra)
There were shepherds … And suddenly there was with the angel (Sarah Smith, Soprano)
Chorus: Glory to God in the Highest
Rejoice, greatly (Sarah Smith, Soprano)
He shall feed his flock (Sarah Smith, Sopran and Mackenzie Nelson, Alto)
Chorus: His yoke is easy
Chorus: Halleluja! 
Upcoming Concerts from Arts at Ascesion Members
Musical Pioneers
Sunday, October 29 at 3:00 PM
Beethoven: Coriolan Overture
Mozart: Symphony No. 1
Ward: America the Beautiful
Alice Mary Smith: Symphony in A minor
Feel the Love
Sunday, February 4 at 3:00 PM
CLASSIC LOVE
Bizet: Carmen Overture prelude
Autumn Marie Reed: Resilience
Rachmaninoff: Symphony No. 2, Third Movement
Massenet: Thaïs,  Meditation with solo violin
MOVIE LOVE
Gershwin: It's all about Love
Barry: Somewhere in Time

The sounds of the seas the world around, introducing Arizona to the works of Jaakko Mantyjarvi, Charles-Valentin Alkan, Dan Forrest, Stephen Smith, and Matthew Lyon Hazzard.
Spring Concert
Sunday, April 28 at 3:00 PM
Program in development
Members of The Arts at Ascension
The arts at ascension was founded in 2021 to enhance the awareness of our musical programs in the greater phoenix area
The Arizona Masterworks Chorale and the Women's Orchestra of Arizona are artists-in-residence at Ascension Lutheran Church